The Deccan Odyssey gets inexpensive this Christmas season with the twofer announced for couples. This special offer is only available for the departure scheduled on 25th December 2013 for the Maharashtra – Goa itinerary.
The offer of 50% discount is valid on the bookings made prior to 20th, December 2013. You only need to pay for one ticket and get your companion's booking aboard for free. Special mention is to the fact that the offer will be null and void if the booking is not for the entire journey of 7 days.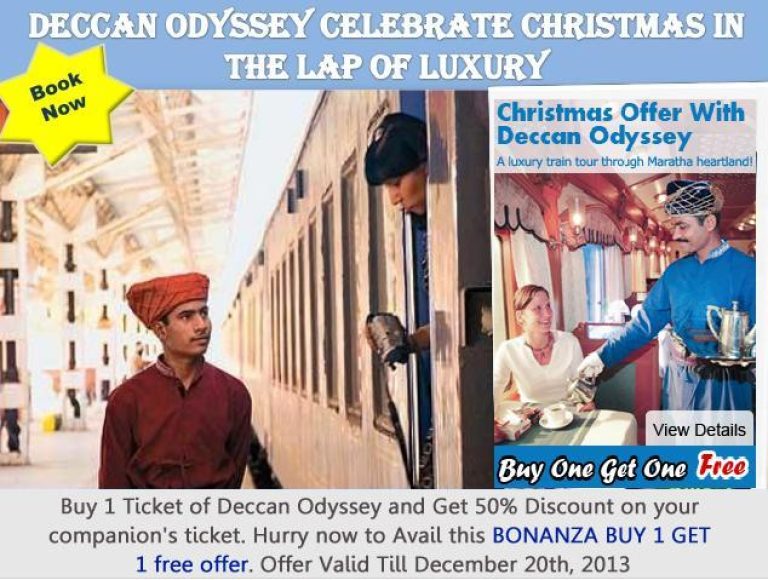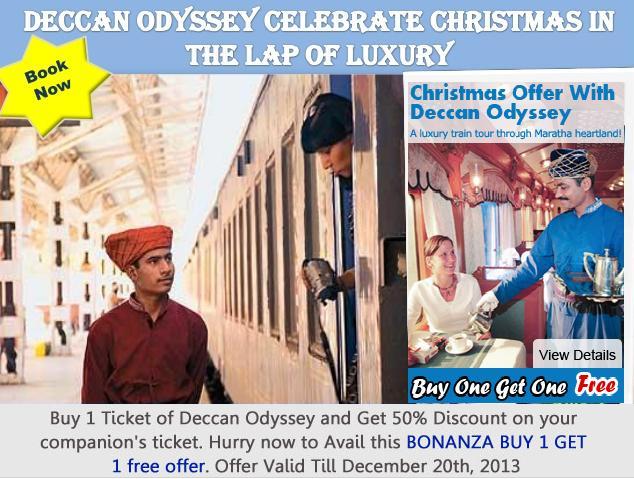 To attain the special offer and make your Christmas and New Year memorable, confirm your booking by making full payment in advance (14 days prior to the scheduled departure). For more details, you can log on to the Offer section of the Deccan Odyssey India Website.
The Deccan Odyssey is one of the luxury trains in India designated to offer a 7 nights and 8 days journey covering some of the major destinations Maharashtra's Western Ghats and Goa. The luxury train travel provides a scenic drive across the culture, heritage, and natural amplitudes of Maharashtra.
The seamless fusion of the past glory with the modern amenities is reflected through the plush interiors of the train. The train provides a round journey from Mumbai, covering major attractions such as Sindhudurg, Goa, Kolhapur, Daulatabad, Ajanta Caves, Ellora Caves and Nashik. For the comfort of the guests, there are numerous facilities such as climate control, Wi-Fi internet, live television, spa saloon and fitness car, bar & lounges, dining cars, and a conference room. Thus, the train is an ideal luxury travel option for families, couples, friends and business travelers.
For complete details about schedule, tariff, and Deccan Odyssey luxury train specifications log on to the website of www.deccan-odyssey-india.com. Comprehensive detail is available together with train reviews, images and brochure.