Inspired by the royal carriages once used by Indian royalty, Deccan Odyssey is a brainchild of the Maharashtra Tourism Rail Corporation (MTDC). After years of constant efforts, Deccan Odyssey took its first-ever journey on January 16, 2004. Since then, this deluxe train has never failed to provide its guests with luxurious services and warm hospitality.
A journey in this extravagant Indian train will make your world go around. You will witness the exquisite Indian culture and heritage via various destination stops.
Get ready to surrender yourself to luxury with its top-notch amenities and features. Check out the top reasons why you should travel in this iconic luxury train in India at least once in a lifetime.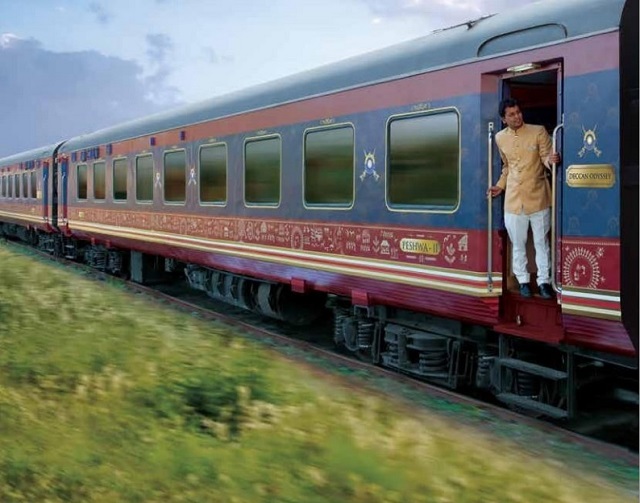 Destinations Covered
This luxury train provides a wonderful experience with its 6 carefully designed itineraries. From UNESCO World Heritage Sites, royal palaces, spectacular beaches, ancient temples, and caves to sun-kissed beaches and stunning backwaters; Deccan Odyssey's journey covers all.
Witness the best of India in this grand and magnificent luxury tourist train. Deccan Odyssey has many itineraries to pick and choose from. It covers all the hidden treasures of India in 7 nights and 8 days. This leisurely trip takes you to witness some of India's most ancient sites and religious destinations. Let' take a virtual tour through various journeys by this opulent train –
Maharashtra Splendour – This journey covers beautiful destinations in and around Mumbai. Destinations included are Mumbai, Nashik, Aurangabad (Ellora Caves), Ajanta Caves, Kolhapur, Goa, and Sindhudurg.
Indian Odyssey – This journey takes you through New Delhi, Sawai Madhopur, Agra, Jaipur, Udaipur, Vadodara, Ellora Caves, and Mumbai.
Jewels of the Deccan – As the name suggests, this journey covers places in the Deccan plateau. Destinations included are Bijapur, Aihole, Pattadakal, Hampi, Hyderabad, Ellora Caves, and Ajanta Caves.
Maharashtra Wild Trail – If you are interested to explore Indian wildlife, then choose Maharashtra Wild Trail. It will cover destinations like Ellora Caves, Aurangabad, Pench (Ramtek), Tadoba, Ajanta, and Nashik.
Hidden Treasures of Gujarat – Explore the hidden gems of less explored destinations like Vadodara, Palitana, Sasan Gir & Somnath, Little Rann of Kutch, and Modhera and Patan.
Indian Sojourn – The destinations covered by Indian Sojourn are Mumbai, Vadodara, Udaipur, Jodhpur, Agra, Sawai Madhopur, Jaipur, and Delhi.
Lavish Interiors of the train
The interiors of this royal train will leave you spellbound. Its spacious 12 coaches will make your journey extra comfy. The train provides first-class amenities such as comfortable beds, wooden furniture, multi-cuisine restaurants, relaxing lounge spaces, spa, and big bathrooms.
All the cabins are beautifully decorated to reflect the lifestyle of Indian kings. Also, every coach has a separate butler on-foot throughout the day to provide the guests with quick services.
You will also find the most luxurious suites in this deluxe train in India. The presidential suite is absolutely remarkable and accommodates four members. The deluxe cabin contains only one room with double occupancy. Not only this, but you can also find deluxe cabins based on the bedding – queen-sized beds and twin beds.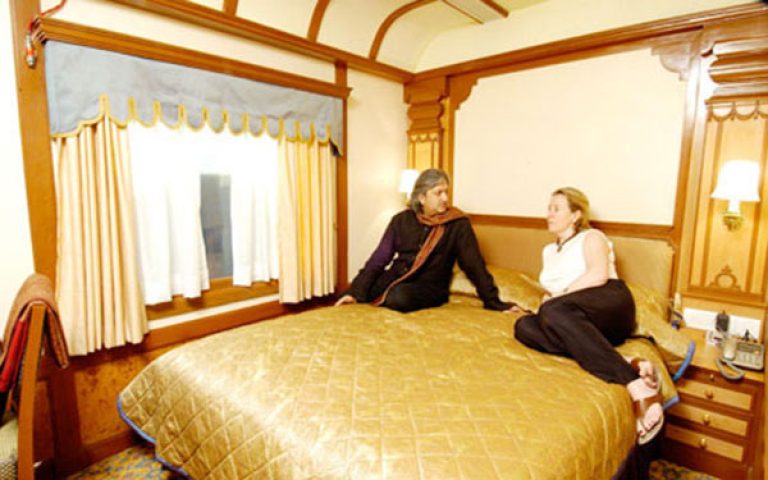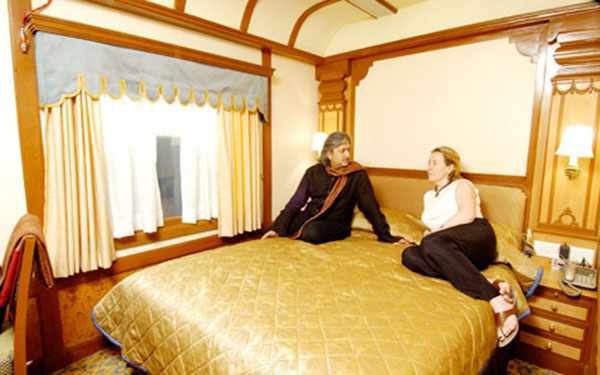 Feel like a Royal
Atithi Devo Bhava! This is a famous Indian saying that reminds us to treat our guests like God. Deccan Odyssey does exactly this! It treats guests with the same honour and provides them with the most gracious hospitality.
If you have special requests, make sure to mention it at the time of reservation. The team at Deccan Odyssey will make it happen exactly as you want.
Exquisite Dining Facilities
A luxury train journey in India is incomplete without a lavish dining experience. Deccan Odyssey offers two multi-cuisine restaurants onboard – Peshwa I and Peshwa II. You can choose from a large collection of Indian, oriental, and continental delicacies. For that imperial experience, the restaurant's attendants in traditional Maharashtra attire serve you.
Savor the flavorful, aromatic culinary treats prepared by the finest chefs. The calming ambience of the Deccan's restaurants with spectacular views outside manifold your dining delight.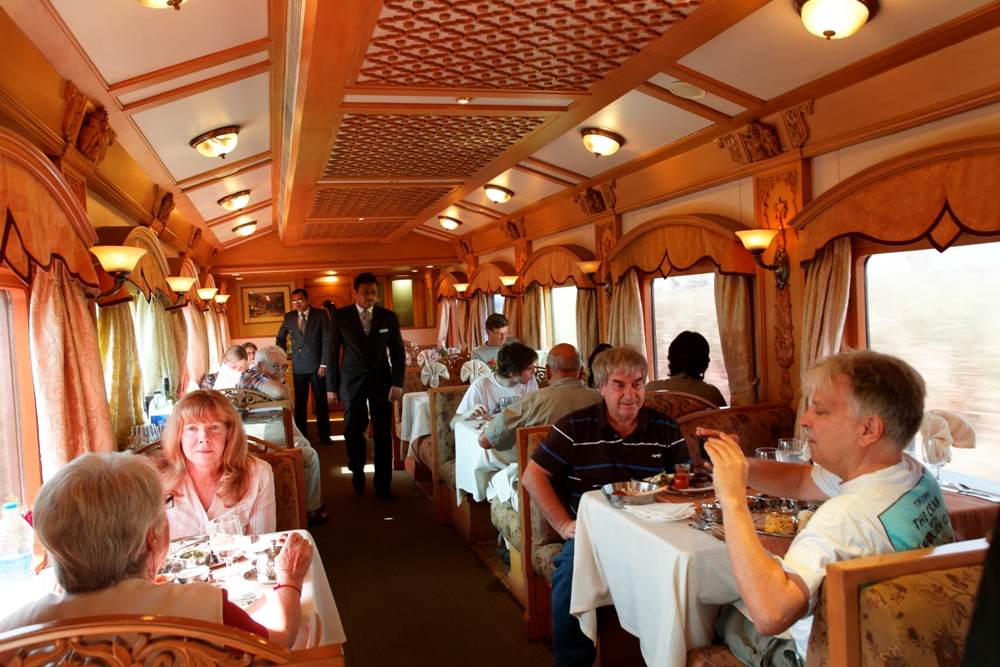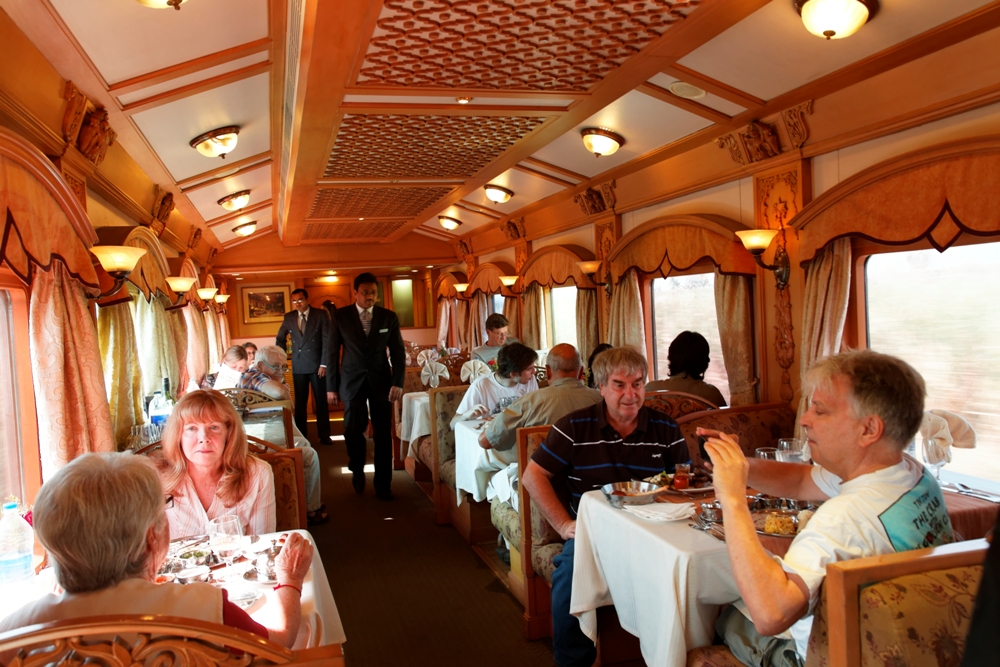 Transparent Billing
One of the best features of choosing Deccan Odyssey is its transparent billing services. This deluxe train's bill is inclusive of every trip amenity. Meals, accommodation, travel, monument entry fees, road trips, etc. are all covered in your bill. No hidden costs or extra charges are made by the train.
Note: Liquor and soft drinks are exclusive and have to be paid at the end of the train journey.
Live through the culture and heritage of India in the most beautiful way possible, while riding this grand version of a blue limousine. India is the land of unique cultures, diverse traditions, authentic flavours, and much more. Take a closer look into the lives of local people of various Indian destinations. Deccan Odyssey brings you to lush paddy fields, quaint villages, sandy beaches, royal palaces, historical monuments, ancient caves, and religious sites. Are you ready to experience a whole new world on this journey with Deccan Odyssey?