The award winning luxury train, Deccan Odyssey, has announced an attractive offer for journeys commencing from 2017-18. This irresistible offer only applies to those bookings made on or before 30th June, 2017.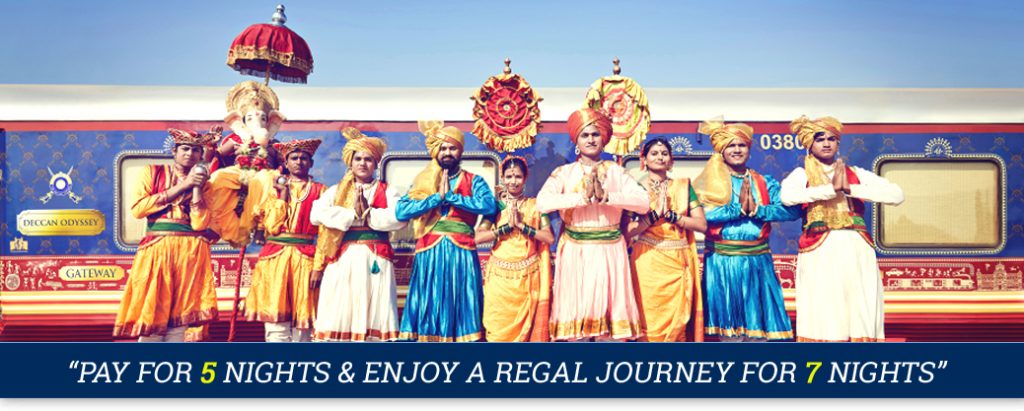 Embark on a journey with Deccan Odyssey, and discover the timeless glories, majestic vistas and exuberant diversity of India.
Itineraries
Maharashtra Wild Trail: Mumbai – Aurangabad – Pench (Ramtek) – Tadoba – Ajanta – Nashik – Mumbai
Hidden Treasures Of Gujarat: Mumbai – Vadodara – Palitana – Sasan Gir & Somnath- Little Rann of Kutch – Modhera & Patan – Nashik – Mumbai
Maharashtra Splendor: Mumbai – Nashik – Ellora Cave – Ajanta Caves – Kolhapur – Goa – Sindhudurg – Mumbai
Jewels Of The Deccan: Mumbai – Bijapur – Aihole and Pattadakal – Hampi – Hyderabad – Ellora Caves – Ajanta Caves – Mumbai
This offer lets you enjoy a regal journey for 7 nights by paying for only 5 nights. The train is equipped with every kind of modern amenities and facilities to cater to the different requirements of the traveler.
About Deccan Odyssey
Deccan Odyssey, India's leading luxury train, sets the benchmark when it comes to unsurpassable comforts and opulence on a train. The journeys offered by it take you through fascinating pages of Indian history, leaving you extremely thrilled. The train is a joint initiative between the Ministry of Railways, Govt. of India and State Govt. of Maharashtra. The train has been conferred with several awards, one of which is, Asia's Leading Luxury Train 2016.
The train consists of 21 coaches draped in luxury, out of which 11 are used as guest accommodations, while the rest serve various purposes like health spa, conference car, lounge and dining. This train reminds one of the bygone days of royalty, when Maharajas used imperial carriages for travelling. Indeed, the influence of the different royal eras of Maharashtra, with all their extravagance and lavishness is clearly visible in each of the coaches of this amazing train.
All the cabins of Deccan Odyssey are equipped with facilities like air-conditioning, internet connectivity and personalized guest amenities, all of which let the guest immerse himself in the arms of comfort while savoring every moment of the journey. Embellishing the entire experience are other on-board facilities like multi-cuisine restaurant, well stocked bar, high-tech conference cart and a spa and massage cabin.
How to book Deccan Odyssey Train Journey
Tickets for the train journeys could be booked from the website Deccan-Odyssey-India.Com, a venture of Indian Holiday Pvt. Ltd.