Deccan Odyssey won the Best Luxury Train at the popular North India Travel Awards 2015. The award ceremony was held at the Crowne Plaza, Jaipur on December 8th 2015. The prestigious award was won after a tough competition between India's top luxury trains and some of the finest in the world. Some deserving participants of the award were Eastern & Oriental Express, The Golden Chariot, Venice Simplon Orient-Express, Rocky Mountaineer, The Blue Train, etc.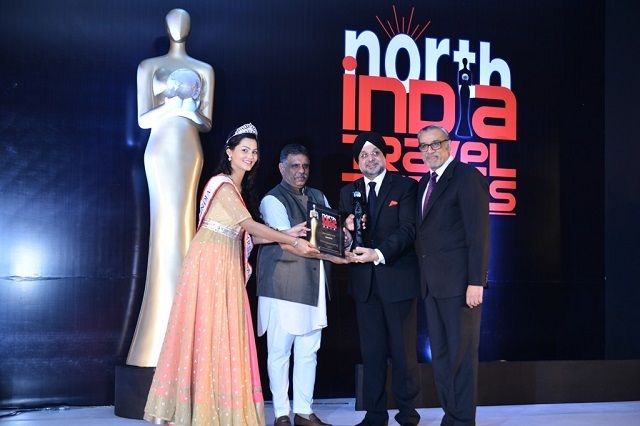 Attending the event was Mr. Gajendra Singh Khimsar, Cabinet Minister of Industries, DMIC, NRI, Sports & Youth Affairs, Government of Rajasthan, as well as other 120 dignitaries from the travel and tourism industry in North India. The ceremony's objective is to advance and promote the well-being and prosperity of the tourism and travel sector. India Travel Awards (ITA) are finalized after a fair and unprejudiced selection process. The panel of jury consists of travel industry's famous personalities.
Deccan Odyssey earned the prestigious award. The luxury train has 21 coaches, out of which 12 are passenger cars accommodating 8 people per coach (10 passenger / deluxe Cars, 4 coupes per coach – 2 Presidential Suite Cars, 2 coupes per coach), 1 Conference/Entertainment Car, 2 Dining Cars, 2 Generator Cars with Luggage Store, 2 Staff Cars, 1 Spa Car, 1 Bar Car. All accommodation cabins are air-conditioned. Access to the internet is provided. The train has on-board facilities like LCD T.V. in each cabin, Channel Music, Gymnasium, Beauty Saloon, Paramedic on board, Foreign exchange facilities, special suite coach for specially-abled people, etc. The capacity of the train is 88 passengers. Each passenger enjoys the ride of their lifetime. Each travelers has returned home with cherished memories.
The elegant Deccan Odyssey follows six journeys. The train stops over in India's best tourists spots like Jaipur, Udaipur, Kutch, Ajanta caves, Goa, Mumbai, Shirdi, Sasan Gir, Delhi, and Ahmedabad. Passing through architectural splendors, the train offers expedition through the royal dynasties, spiritual places, and a glorious history.