Traveling nowadays has become all about luxury, speed and style. Luxury trains provide an unmatched voyage to discerning individuals seeking journeys where they are pampered full on with fabulous dining experiences, well stocked bars and the privacy of a comfortable suite, all this while traveling through marvelous sceneries, halting only at iconic destinations. The elegant ride in a luxury train offers an unforgettable experience to all. Given below is a list of five of the most sought-after luxury train journeys in the world.
1. The Blue Train: South Africa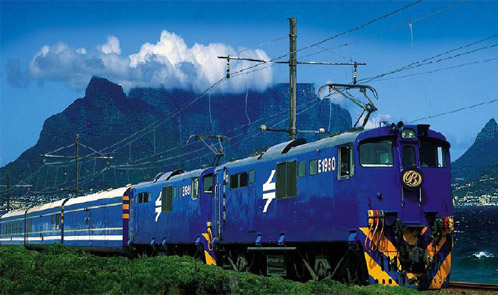 Traveling around the remarkable landscapes of South Africa, The Blue Train offers you the experience of a luxury cruise on land, while checking out some of the major tourist attractions in the country, along the way. Marvelous dining experience along with a fine selection of drinks, both alcoholic and non-alcoholic, is a pleasure for all. And when such quality of dining is added with elegant suites and personal services, you are in for the trip of your life. The Blue train installed with powerful suspension and braking systems guarantees a smooth journey to tourists, with all modern facilities like TV, Telephones, internet connection etc.
Destinations: Pretoria, Cape Town.
Accommodation: The first train accommodates 74 guests in 37 suites. The second accommodates 58 guests in 29 suites.
Suites: Two luxury coaches having three

suites

each; Nine Deluxe coaches having four suites each.
Dining:

In-built

multi cuisine dining room housing 42 guests.
Other facilities: Lounges, Medical professionals, Fax, Air conditioners, Wi-Fi, Cable TV.
2. The Deccan Odyssey Train: India

The Deccan Odyssey Train provides tourists with an exciting journey through the Maratha heartland. Traveling around the vast land of Maharashtra, Deccan Odyssey is once in a lifetime experience for travelers as they are introduced with the beaches, plains and hills in Maharashtra that showcase the true spirit of the country. With orgasmic cuisines, traditional cabins and great onboard entertainment, including a spa and massage parlor, you are bound to travel in supreme style. The journey is Deccan Odyssey surpasses every other experience you ever had!
 Destinations: Nashiak, Mumbai, Tarkarli, Kolhapur, Sindhudurg, Daulatabad, Goa and Ajanta.
 Accommodation: 11 coaches to accommodate guests.
 Suites: 1 Presidential Suite.
 Dining: Peshwa I and Peshwa II (Indian and European cuisine), Mumbai Hi (well stocked bar with alcoholic and non alcoholic beverages).
Other facilities: Sitting Lounges, Conference Car, Health Spa, Air conditioners,

Wi

-Fi, Cable TV, Gym.
3. Venice Simplon-Orient-Express: Europe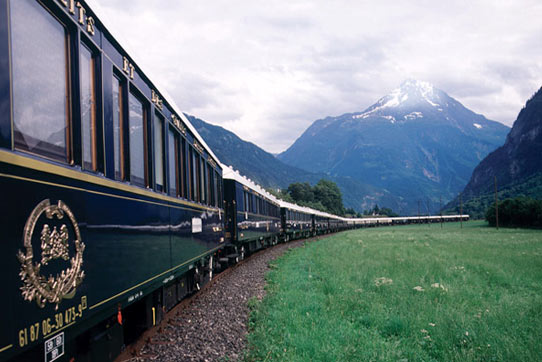 Made extremely popular among travelers by James Bond's movie "From Russia with Love" and Agatha Christie's novel "Murder on the Orient Express," Venice Simplon-Orient-Express is one of the most sought-after luxury train journeys. Traversing around various indistinct locations throughout Europe, a journey in the Orient Express is a treat for each and everyone. Vanity Fair regarded it as "the train against which all other luxury trains are measured". The train is known to host various eminent personalities in every journey; from renowned authors to political leaders, from royals to spies, from professional dancers to film stars. Each journey in Orient Express is an adventure filled with romance and drama. Exceptional outside sceneries, fine dining and comfortable private cabins; A journey in Orient Express is a never-seen-before experience
Destinations: Budapest, Istanbul, Venice, London, Paris, Prague and Venice.
 Accommodation: 17 beautifully restored first-class Wagon-lit carriages for 188passengers with steward attendants.
Dining: 3 restaurant cars and the Bar Car, complete with baby grand piano.
Other facilities: Vintage carriages, Luxury cabins, Air conditioners,

Wi

-Fi, Cable TV, Gym.
4. Eastern & Oriental Express: Singapore, Malaysia and Thailand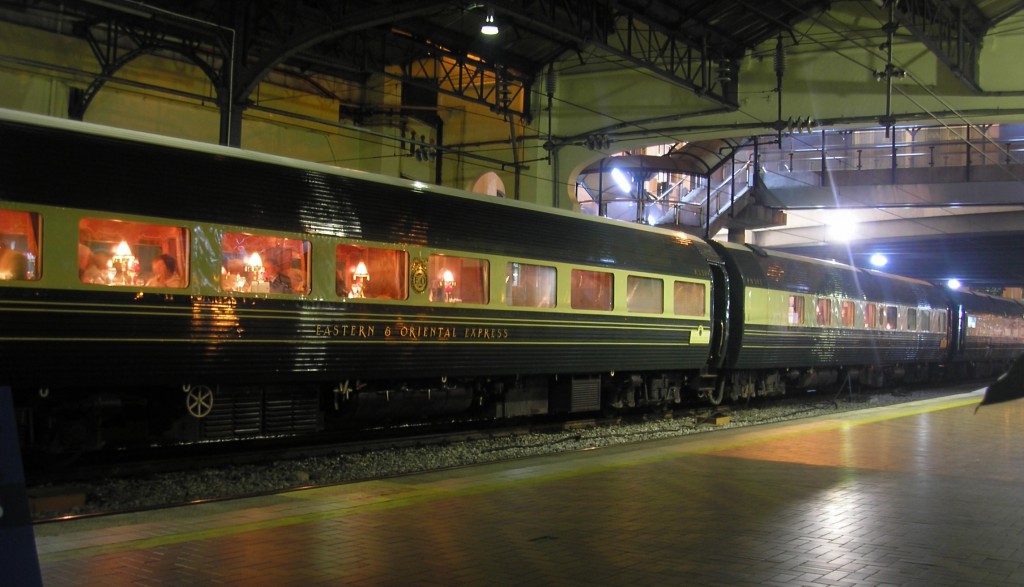 Built-in the year 1972 in Japan, The Eastern & Oriental Express train is one of the most luxurious train journeys through the exotic countries of South East Asia. On this luxury train you will experience the luxury; witness the landscape; traverse the eye capturing and remote destinations of Malaysia, Thailand and Singapore. On the train you will travel in style with on board shopping experience, comfortable cabins and on board fine dining facilities.
Destinations: Malaysia, Singapore, Thailand and Laos.
Accommodation: 58 cabins for guests.
Suites: 2 Presidential suites with all modern facilities.
Dining: Dining

cars

with Eastern and European cuisines; well stocked bar car with both alcoholic and non-alcoholic beverages.
Other facilities: Observation car, Air-conditioners,

Wi

-Fi, Conference Car, Health Spa, Cable TV.
5. The Rocky Mountaineer: Canada

The Rocky Mountaineer is a world-class luxury train, rolling and thundering through the steep, Rocky Mountains in Canada, with utmost style and complete comfort. Witness the country from the top viewing vantage locations while sitting in a silver and gold Leaf car. Experience the best dining experience on board and enjoy the entertainment programs detailing the capturing stories of the train to make your journey a lifetime experience.
Destinations: Vancouver, Banff, Calgary, Jasper and Whistler.
Accommodation: No sleeping accommodations. GoldLeaf service offers bi-level dome coaches, each accommodating a group of four. SilverLeaf service offers single-level, rotating dome coaches in reclining seats, each accommodating a group of four. RedLeaf service offers reclining seats in regular cars with large picture windows. Overnights are spent in hotels.
Dining: Multi-cuisine lunch and breakfast.
Other facilities: Lounge cars with a well-stocked bar, Air-conditioners, and an observation deck.